2001 in the Life of Bell Bruins Alumni RFC
June 15, 2001 -- The Annual Bell Bruins Alumni match was another success with the Alumni squad being narrowly defeated by the present senior boys rugby team 26-24 (Bud MaCrae was refereeing and did make a bogus call towards the end of the game which proved to be a turning point). A fun time was had by all despite the scorching heat and it was nice to see so many of the 'Old Boys'. We also had about 25-30 screaming fans at the event, which was a definite boost for the 'Old boys' who were desperately in need of some inspiration (we were sucking some serious wind against the younger, keener and fitter opposition). A special thanks to Keith Theobald for bagpiping us onto the pitch!!!! It still gives me Goosebumps!!!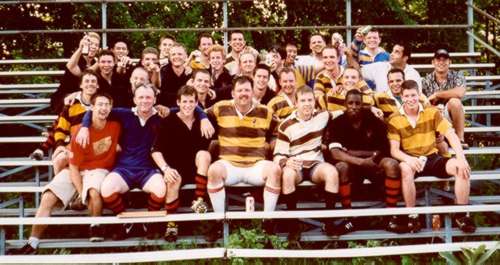 Bell Alumni RFC 2001:
1) Maisara Kobaisy, 2) Jeff Ruttan 3) Alex Zurlev 4) Peter Ford 5) Andrew Ford 6) Keith Theobald (bagpiper!) 7) Colin Murphy 8) Neil Chatterly 9) Joe Nesrallah/Derek Featherstone 10) Chris Stewart/Gavin Coverdale 11) John McFarlane 12) Ryan Bradford/Chris Hyndman 13) Jason Pither 14) Chucky "The Chainsaw O'connor/Dave Robertson 15) Andrew "FLU" Matsukubo/Steve Joynt
Bell Senior 2001:
1) Nenad "The Russian"/Adam Black 2) Ross Townsend 3) Matt Keogh 4) John Lee 5) Tavis Weigand 6) Bryan Goat 7) A.J./Brad Snippe 8) Chris Spriggs 9) Sean Harris 10) Geoff Carran 11) Ivan Wang/Nathan/Deutokom 12) Adrian Deutokom/Brad Conlan 13) Matt "Puke" Barthe/Trevor Sharpe 14) Rasheed Robinson/Adam Radmore 15) Spencer Fullerton
Referee: Allen "Bud" MaCrae
Ottawa Beavers "Alexandre Keith's" 7's Tournament
June 30, 2001 ' The Bell Alumni (Past and Present) Rugby Club participated in the 2nd Annual Ottawa Beavers Rugby Sevens tournament and were quite successful. We were able to finish first in our pool winning both of matches by a score of 39-5 (vs. Ormstown, Quebec) and 26-7 (vs. Brookfield Old Boys). We went onto the semi-finals only to face an extremely experienced McGill University Old Boys Team, eventual winners of the tournament. Once again, the "mix of young and old" team had a great time and showed some real skill and finesse.
Bell Past & Present 7's Team:
Joe Nesrallah, Jason Pither, Spencer Fullerton, Gavin Coverdale, Courtenay Trelaevan, Chris Spriggs, Tim Formazawich, John Lee, Geoff Carran, Ryan Bradford, Chris Hyndman, Matt "Puke" Barthe.